Red Hot Update – Access Bulk Majestic SEO Link Metrics for Free

Note: This update has now been superseded, as we no longer offer unlimited free Majestic checks. Instead we offer 500 free daily checks for both Majestic and Moz, and you can read the details about the update here.
Original Post:
We did a big update last week, but this is the one we've all be waiting for. In version 1.45 you can now retrieve limited Majestic SEO link metrics for free! Yes, that's right…there's no limits and no additional credits to buy. You don't even need to enter an API key.
This update is available for OSX and Windows, and in all editions.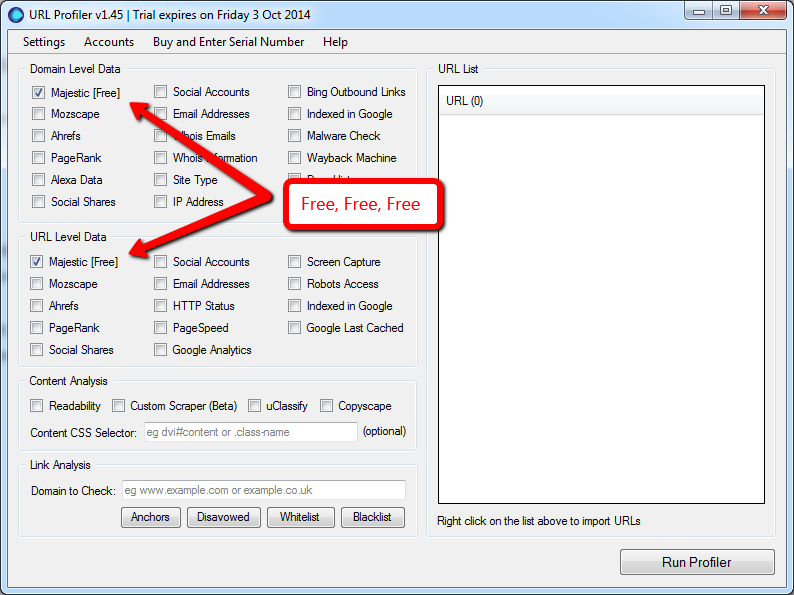 The data includes:
Citation Flow
Trust Flow
External Backlink Count
Referring Domain Count
Currently, Topical Trust Flow is not included (although we're working on it), so you'll need to sign up for a Majestic paid plan to get this (subscriptions start from a very reasonable £29.99 per month).
OK, so it's not the full dataset, and it's not as quick as the Open Apps API – but it's FREE! The free version is throttled to 200 rows per minute, that's 3 times faster than Mozscape.
Oh, and Majestic SEO subscribers can still access the full dataset by entering their API access token.
Downloads
If you've not tried URL Profiler yet, you can start a free 14 day trial here:
The trial is full featured, and you don't need to give us any payment details to get started.
Existing customers or existing trial users can grab the new update from here:
What are you waiting for?
If You Like the Sound of URL Profiler,
Download a Free Trial Today
(You'll be amazed by how much time it saves you, every day!)