Bulk Screenshot any Website or Webpage

URL Profiler has a cheeky little function called 'Screen Capture' buried among the URL Level options.
Of course, everyone these days has a browser plugin that will do screen captures for them, but with URL Profiler you can do them in bulk – hundreds or thousands at a time.
But…Why on Earth Would I Want Screenshots In Bulk?
Good question, well put. Here are but a few of the potential usage scenarios for bulk screenshots:
Audit your website or sections of your website to make sure the content is displaying correctly
Benchmark competitor sites for analysis
Quick visual check on prospect websites for potential outreach
Checking how (responsive) pages display on different screen resolutions
Keep an ongoing record of on-site changes for retrospective analysis (a la Wayback Machine)
Hell, I've even used them as part of a reconsideration request as evidence to Google that the contact forms were broken on sites I wanted to get links removed from (It works as well by the way – a massive body of evidence makes it look like you've done a shit-ton of work).
Every Screenshot Under The Sun
Here's how you do it:
Load in your list of links in the white box on the right
Click the 'Screen Capture' tickbox under 'URL Level Data'
Select the size options you are interested in, then get profiling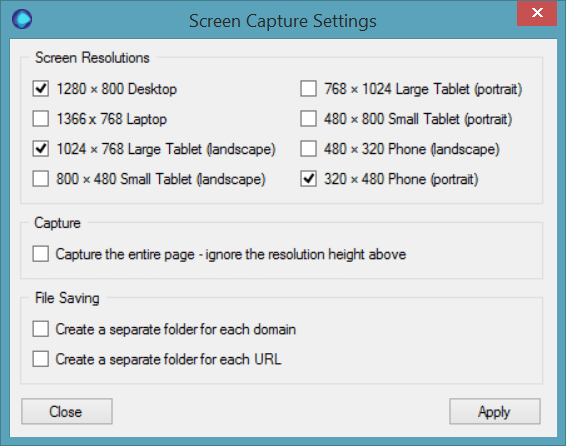 You'll get back a folder full of images of each web page in your list, to whichever size you requested. You may even be able to do most of your analysis in preview mode.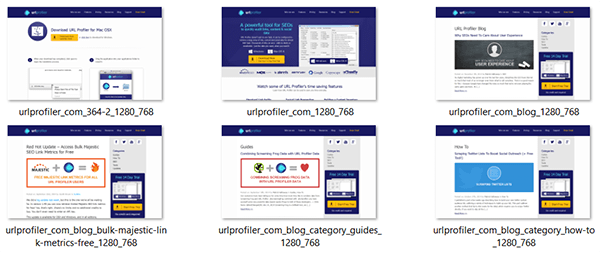 Making You Look Particularly Hardworking
If you are using this function to carry out client work, it can certainly help make you look a little more…conscientious then you perhaps deserve ("We've gone through your top 20 competitors and taken snapshots of all their key pages so we can monitor any changes").
Taking screen capture onto the next logical step, it is very unlikely (for most tasks, at least) that you will only require the screenshots. However this functionality can be conveniently rolled into processes for prospecting sites for link placement, for building out a content inventory or for profiling your competitors.
If You Like the Sound of URL Profiler,
Download a Free Trial Today
(You'll be amazed by how much time it saves you, every day!)