How To Outreach Influencers Directly Using NEW Twitter Custom Audiences

Twitter Ads can offer a great way to target relevant audiences and extend the reach of your marketing messages. In the past, we've successfully run promoted tweet campaigns by targeting the followers of other SEO tool providers. They worked nicely. We were happy.
That's all well and good, but what if we wanted to target specific individuals? Twitter call these 'Custom Audiences' – an audience list you create by uploading a list of email addresses or usernames. However, up until a few days ago, in order to do this you had to go through one of their 'Ad Partners'.
Another relationship to develop, another middleman to pay. We had never bothered.
But now Twitter allows anyone to upload a custom list.

What's So Good About Twitter Custom Audiences?
We were really excited about this feature. I'm sure there are plenty of others, but here are two really good use cases:
Curate a list of influential users to target for your content or product
Use your own CRM data, target your customers directly and drive them to re-purchase
Let's examine the first one a bit closer:
You can put together a list of every specific person you want to reach out to, then have your content appear in their everyday Twitter stream.
Finding Influencers
Let's imagine we're just about to launch our new SAAS startup, and we're looking to find influential tech bloggers to cover the launch.
Of course, we are going to want to do some manual outreach first so we can give someone a 'scoop', but once it's in the public domain we'll be wanting as much relevant coverage as possible.
We want to build out a list of Twitter usernames of influential tech/SAAS/startup bloggers so we can promote our tweets to them directly.
Here's a few ways we might do this.
Followerwonk
Followerwonk lets you search Twitter bios and find influential users. And guess where SAAS types like to hang out? Twitter!
In our hypothetical startup launch, we might want to get some coverage from sites like The Next Web, so we can plug this into Followerwonk and see what we get.

Then from the results, we want to find current editors, writers or contributors who might theoretically be in a position to write about our company. Scrolling through the results quickly reveals a number of 'hits', which can all be added to our custom list.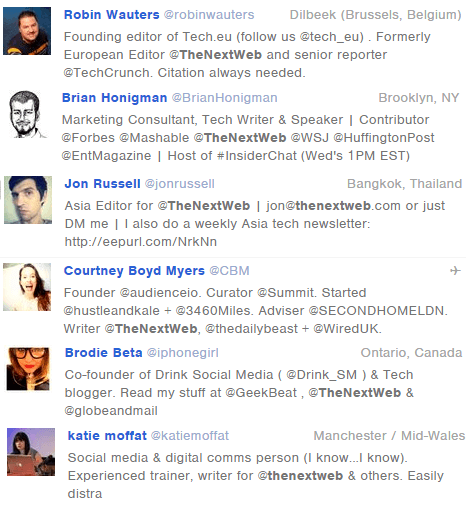 We can rinse and repeat this for as many other big publications as we wish. It is important not to forget including the corporate account – at the end of the day they will still be managed by a marketing person anyway.
Editorial Pages
Of course, every editor or staff writer isn't necessarily going to be 'influential', or list their job title in their Twitter bio. But a bit of manual digging can often hunt out these folk, particularly when publications are kind enough to list their editorial staff.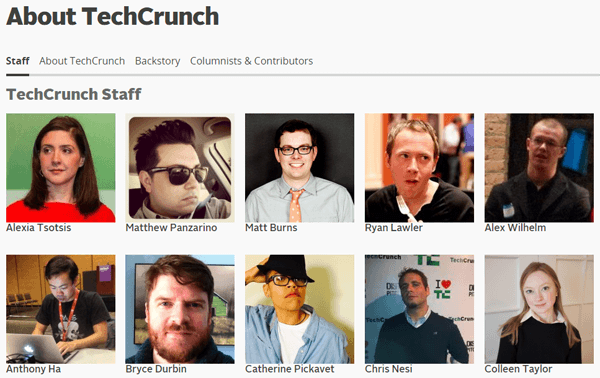 There's 39 people listed on that page! If we can add all of these to our list, that's 39 bites at the TechCruch cherry. Clicking through any one of them will quickly give us their social links. Bingo.

Relevant Community Sites
Many niches have community websites with user submitted content and discussion, which can be a great place to find individuals who are actively engaged in the community and likely to be quite influential. In our hypothetical case, we might try places like Growth Hackers or Inbound.org

Gareth wrote a post the other day on how to scrape the top users of Inbound using URL Profiler's in-built custom scraper (Twitter profiles of course included). Applying the same principle elsewhere could beef up our list a bit.
Scaling It Up
All the tactics thus far will help build out a well targeted but still pretty small list. Depending on how much we did, we'd probably be looking at around 200-300 users in the list. Not bad, but not enough. I reached out to Twitter support to enquire about the minimum list size for custom audiences:
"The minimum match size is 500" – Faceless Twitter Support Representative
Ok, so we'll need to scale it up a bit.
Competitor Backlinks
An obvious one for the SEO minded among you, and certainly a worthwhile venture. If a website is interested in your competitor enough to link to them, maybe they will be interested in you too. Pick a competitor domain and plug it into your favourite backlink tool.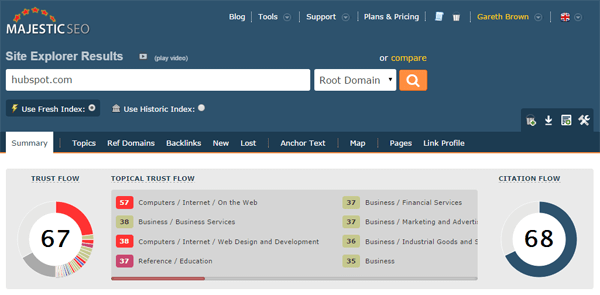 If our fictional startup were somewhat like Hubspot, we'd want to dig out their most authoritative and most relevant links. In Majestic we'd do this by navigating to their 'Ref Domains' tab, then ordering by Citation flow and hitting export.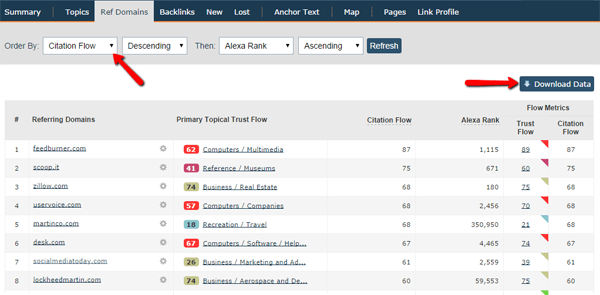 This will give us the top 2500 referring domains, which should be sufficient for our needs. From the export file, we can filter by Topical Trust Flow to choose only the most relevant websites.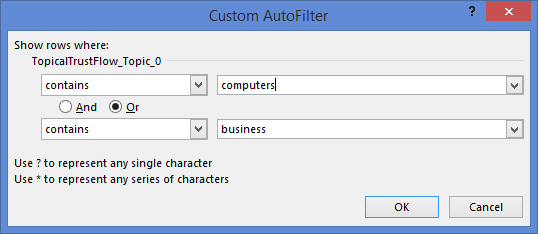 We can also remove any sites that have low authority; in our case we deleted any site with Citation Flow below 30, which left almost 600 domains to go at. I know what you're thinking – but how to we get their Twitter accounts?
That's where URL Profiler comes in. We can scrape social account data from websites by importing our URLs, then selecting 'Social Accounts' from the Domain level metrics.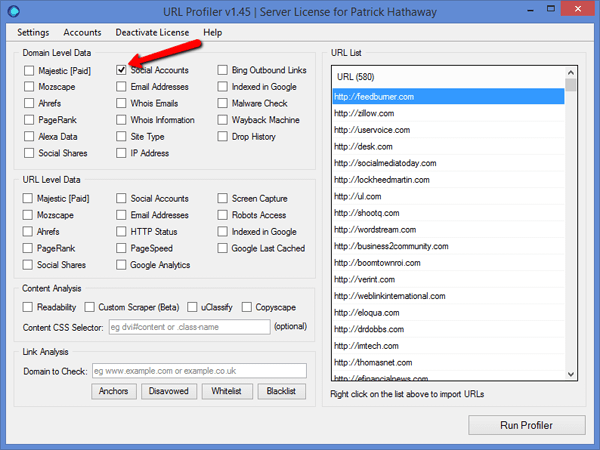 The software will visit each domain and try to find and social account URLs. We can make the scrape even quicker by selecting only Twitter from the Settings options.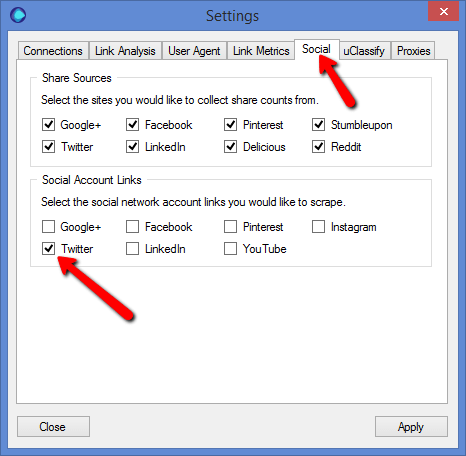 The speed of the crawl is dependent on the speed of your computer and internet connection, in this particular case mine ran in 2 minutes and 24 seconds. From the 580 sites profiled, it found 438 Twitter accounts. That'll do nicely.

Run Prospecting Queries
Another tactic borrowed from linkbuilding, we can look for websites who have actively covered competitors in the past, and may be on the lookout for new services to try.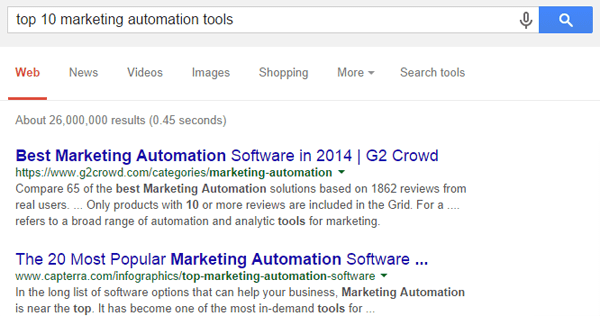 To get these results into Excel, we just need to get Google to display 100 results, then copy the links from the page (I use a Chrome Extension called Linkclump). We can take all these URLs and run them through URL Profiler again, to extract the Twitter accounts.
Of course this is the tip of the iceberg when it comes to prospecting. Get creative with your variations.
To scale this up further, you can use powerful paid prospecting tools that will find you results in extreme bulk, my favourite of which is Citation Labs Link Prospector.
Sanitising The Data
At this point we have a list of several hundred influencers, and a few thousand relevant and authoritative users who might be interested in our news. The data might be in a bit of a mess at this point, and it's important we sanitise it all before uploading to Twitter. My friend at Twitter also told me;
"you will need to remove any @ signs and all characters must be lower case" – Faceless Twitter Support Representative
We'd better do as he/she/it says.
Fortunately this is pretty easy. Combine all your various results into one column on Excel. If you have Twitter URLs, you can just do a find/replace to leave only their username (i.e. replace with blank)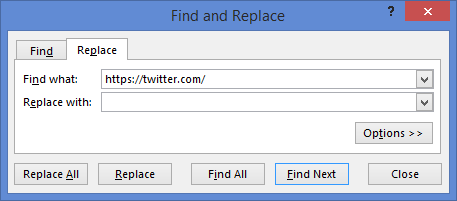 Similarly, if you have any @ signs, just find/replace them too. To make all your usernames lowercase, simply use the following:
=LOWER(B2)
Now we just need to remove duplicates, and quickly eyeball our list to make sure it all looks ok; then save the file as a csv.
Setting Up Your Twitter Custom Audience
Ok so we've done all the hard work in building our list. Now we just need to upload it to Twitter so we can start running ads against it.
We need to access the Ads section of Twitter, which we do by logging in and heading over to the ads section by choosing 'Twitter Ads' from the settings cog.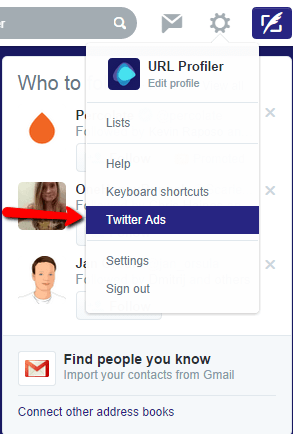 Then we need to select 'Audience Manager' from the 'Tools' dropdown.

Now we're prompted to create a new list audience. So name it appropriately, and select 'Twitter usernames' from the data type options.
Then click to upload our data file (this is the new bit that you couldn't previously do before directly within Twitter).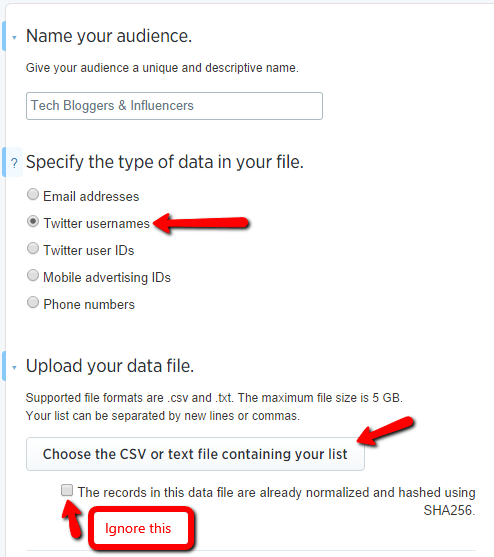 Then Twitter take us to a frustrating 'Processing' screen, which will stay this way for hours. Better put the kettle on.

Several hours later…

We've done it! Our highly targeted audience of bloggers and influencers is now ready to be advertised to.
(Note: Depending on the size of the custom audience you upload, Twitter may warn you that the audience size is too small to get any ad activity).
Now, we just need to set up our ad and set it running.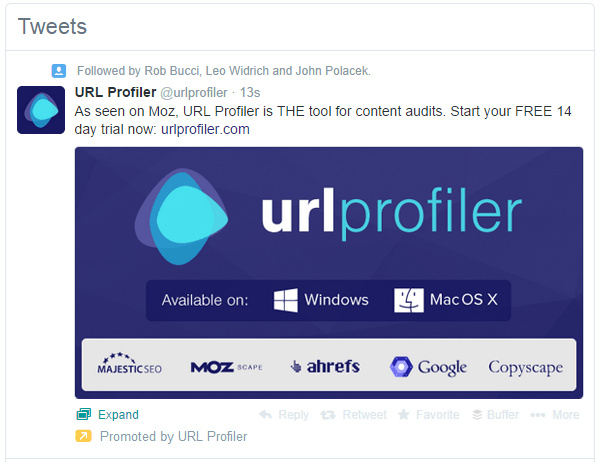 With just a small amount of effort we can have our advert sitting right in front of all the people we want to know about us, so the next time they log on, guess who's waiting for them…
If You Like the Sound of URL Profiler,
Download a Free Trial Today
(You'll be amazed by how much time it saves you, every day!)