Update 1.50 – Bulk Indexation & Duplicate Content Checker

As Mr Staind once said, "it's been awhile" since our last update.
But that's not to say we've not been busy. Below you'll find details of our latest update, which includes a plethora of small improvements and bug fixes, as well as a several new features, which I will expand upon below.
1. Duplicate Content Checker
We're really excited about this one.
For years the de facto method for checking duplicate content has been to take a snippet of text from a page, put quote marks round it, then search Google to see what came up.
We've automated it.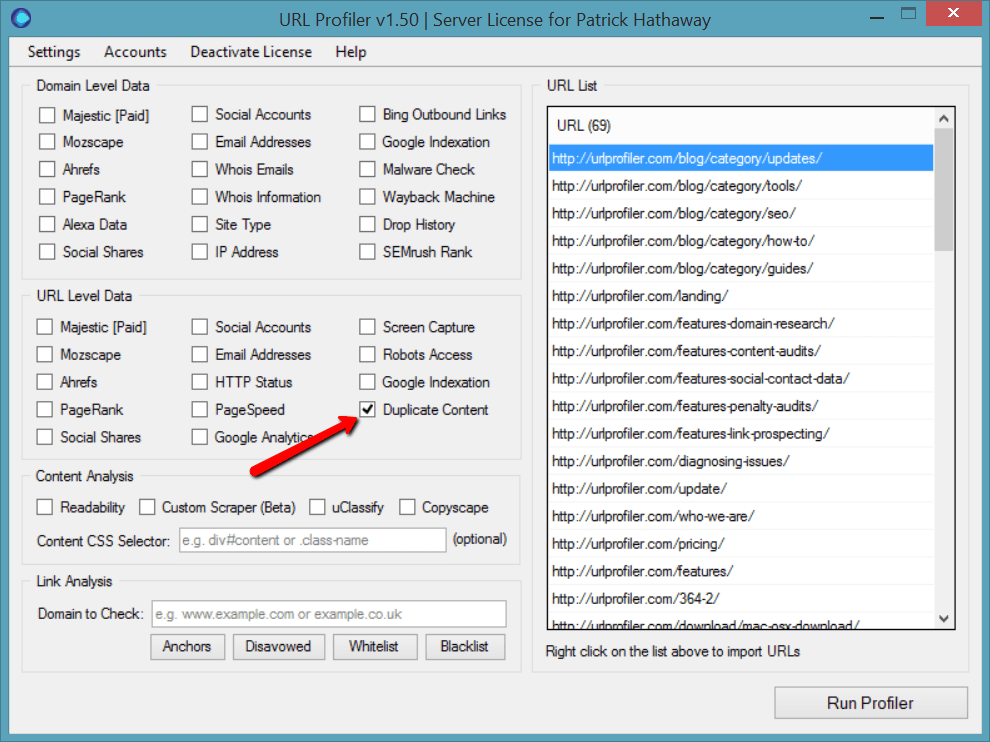 Upload some URLs and just click that badboy above, and you'll be cooking with gas (that's not true actually, you need to adjust a few more settings first, as below, this is more akin to cooking with a flamethrower).
The premise is straightforward:
The tool visits every URL in your list, and identifies the textual content
It picks some snippets of text from the page, then searches them in Google (with quote marks)
It returns the number of results, the searched content, and the ranking pages
This allows you to scan through the results and quickly identify patterns, to get a complete picture of all duplicate content issues.
I've written a full blog post introducing the duplicate content checker, which explains some of the subtleties of the methodology and how to interpret the results you get back.
Cooking With Gas
I mentioned above you that do need to adjust a few settings before you can forge ahead with your duplication detection.
The reasons for this are twofold:
To make sure your IP address does not get banned by Google
To help URL Profiler pick the right area to grab content from
When you tick the 'Duplicate Content' box, a little settings panel will appear: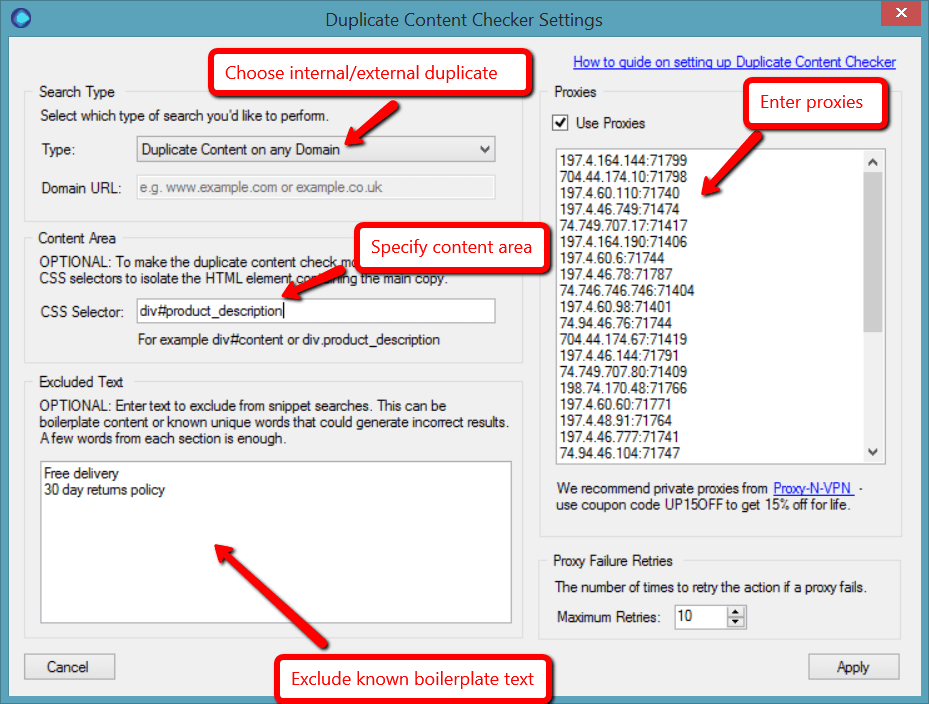 This looks a bit much, but it is really quite straightforward once you are familiar with what's going on. If you are looking to give this a try, I'd recommend you read the duplicate content checker tutorial, which is a guide to all of these settings and how to use them.
Then you'll be cooking with gas.
2. Improved Google Indexation Checker
When we were building the duplicate content checker, we noticed a number of obscure results from our indexation checker.
Basically, results which were coming back as indexed, were not really indexed.
Not only that, but the most common method for checking indexation (and in fact the method that Google advises) is inherently flawed.
We were totally surprised by what we found, and you can read about these findings in our blog post introducing the Google Index Checker feature.
In the meantime, you can check out the feature for yourself by ticking the 'Google Indexation' box.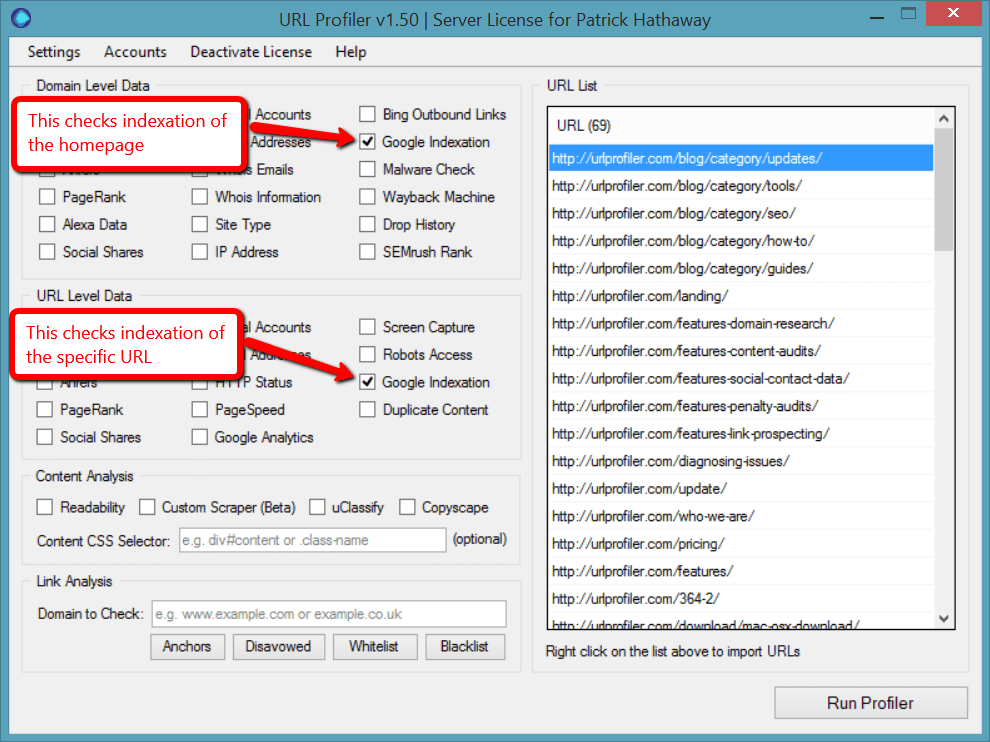 Obviously, if you're checking loads of URLs from the same domain, you don't need to worry about checking the homepage every single time – but this is where the URL Level indexation check comes into play.
From an auditing perspective, this means you can check to see if every single URL on your website is properly indexed by Google.
Don't understand what I mean by 'properly indexed' – go read the tutorial post which explains it all.
3. CSV & Merge Data
Ever found yourself with 2 separate datasets about the same URLs, and wanted to smash them together?
You'll be VLOOKUPing all day long.
Not any more – the latest usability feature we have released is a simple addition to the import options: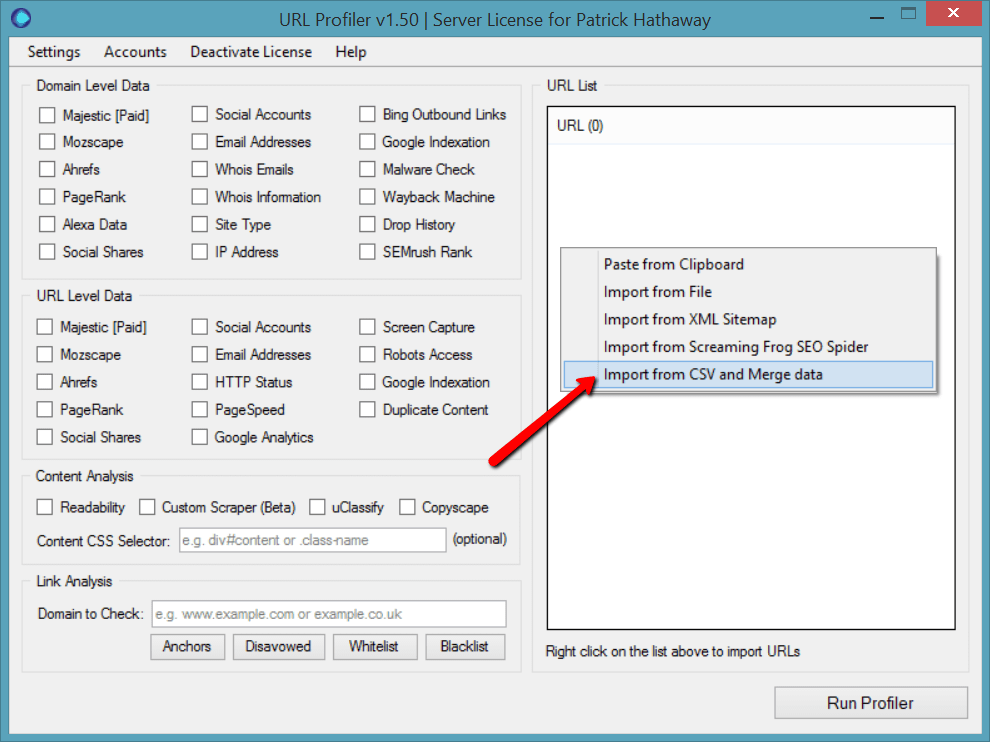 So you might have a list of ranking URLs from SEMrush, for instance, and want to add on Majestic metrics to each of these.
Simply import your SEMrush file, select Majestic metrics from the tickbox options, and away you go.
The original data will remain as it was, with the new URL Profiler data appended on the right of the spreadsheet.
If you want some more use cases, check out the guide post I wrote about this, imaginatively titled, Pimp Up Your SEO Reports with Import & Merge (I came up with that).
4. More New Stuff
This stuff is less exciting, but on the plus side I won't go and tell you to go read yet another blog post I've written.
Improved: Screen Captures (faster)
Added: Total Share Counts
Added: Unicode language support on import/export
Added: Cross-domain Google Analytics support
Added: Scheme to URL data (e.g. http, https)
Added: Validation/Test buttons for API keys
Added: "Credits remaining" report for API keys
5. Bug Fixes
As ever, there were a few typos here and there to clean up, and a range of bugs which had reared their ugly heads:
Fixed: Share count columns out of sync on some settings
Fixed: Occasional inaccuracies in share count data
Fixed: Majestic 'insufficient index items' message to be clearer
Fixed: HTTP Status not resolving redirected URLs
Fixed: HTML output issue on some Readability exports
Fixed: Links to documentation now point to Knowledge Base articles
Fixed: co.uk root domains not working correctly
Fixed: Issue where disavow information was being exported at URL Level even though there was no domain to check
Downloads
Existing customers or existing trial users can grab the new update from here:
If you've not tried URL Profiler yet, you can start a free 14 day trial here. The trial is full featured, and you don't need to give us any payment details to get started.
If You Like the Sound of URL Profiler,
Download a Free Trial Today
(You'll be amazed by how much time it saves you, every day!)