Update v1.47 – New SEMRush Integration & Instant Google Analytics Data

We've been busy over the last few weeks, what with the Screaming Frog SEO Spider integration and adding the new (free) Majestic data! Today we're rolling out Version 1.47 which allows you to connect to SEMRush.
I don't want to get ahead of myself, but we have also completely re-built the Google Analytics integration to make it MUCH more friendly (and 10,000 times faster). But more on that later.
Better Domain Analysis with SEMRush
Once you download and install the new version, you'll see a new option in Domain Level Data, SEMRush Rank!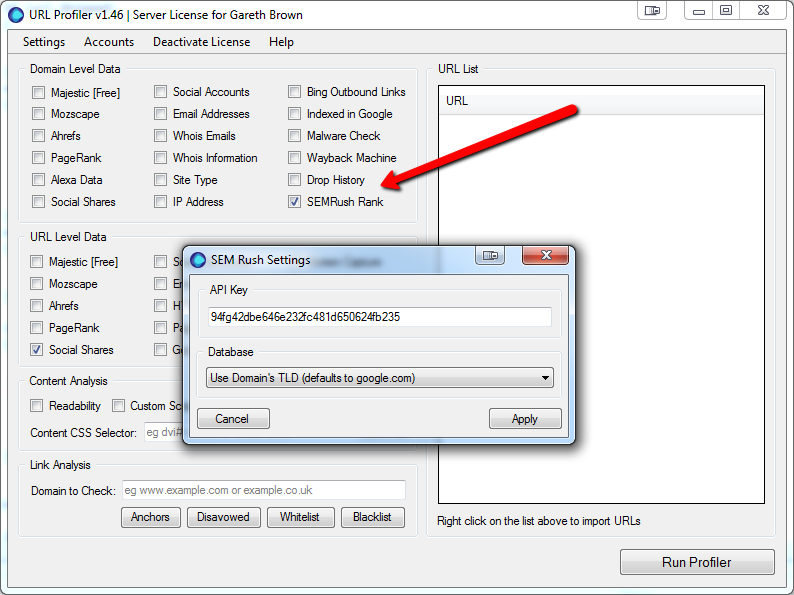 The SEMRush option pulls back domain level data, which includes:
SEMRush's Rank
Organic Keywords (Number of)
Organic Traffic
Organic Cost
Adwords Keywords (Number of)
Adwords Traffic
Adwords Cost
There's loads of different uses for this data, but it's invaluable when link prospecting. The organic keyword and traffic information can be used as indicator to whether a domain is trusted by Google.
Now, you will need a paid subscription in order to use the SEMrush API.
Fortunately, the fine folks at SEMrush are offering a free 14 day trial of their Pro account (worth $70) for URL Profiler users – click here to redeem.
How it Works
Once you have entered your SEMRush API key you can select to retrieve data from one of their 26 national databases. Or, let the tool automatically choose a database based on the domain's TLD – defaults to the US database if TLD isn't matched.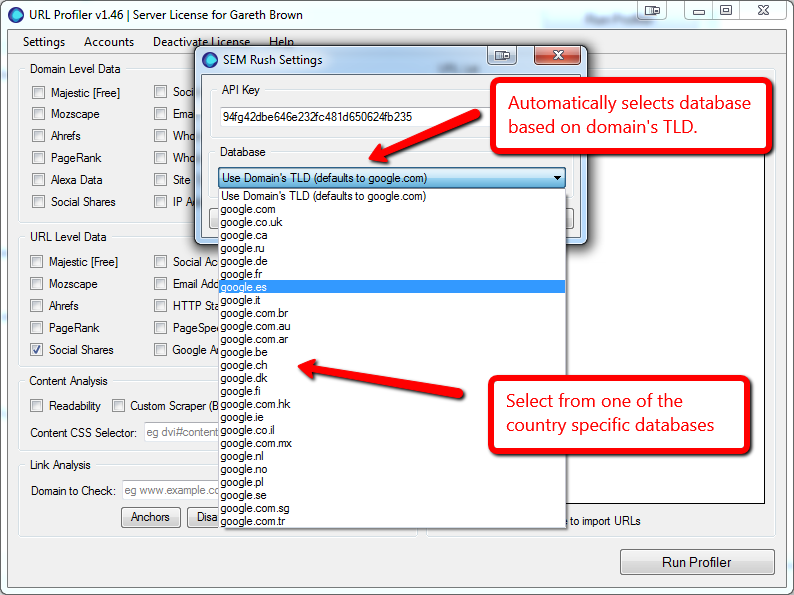 This data is only available to paid SEMRush subscriptions, which start from $69.95 per month.
Google Analytics now 10,000X Faster
Yeah you heard right. We've totally rebuilt the way URL Profiler requests data from Google Analytics, for a 10,000X improvement.
I just put 46,000 URLs through it, and the results came back in a 1 minute and 30 seconds.
Most sites will be done in seconds.
Throw VLOOKUP away, you won't need that anymore.
Improved Google Analytics API Authentication
The reason we looked to improve the  capability of the Analytics integration is because it is so popular. Most of our customers LOVE bringing Google Analytics data directly into their profiles, but HATED the long-winded and confusing setup procedure (we've got the support tickets to prove it).
Connect to Google Analytics in 2 Clicks
No more developer console, certificate file, developer email address. That's all GONE. Just click this button instead: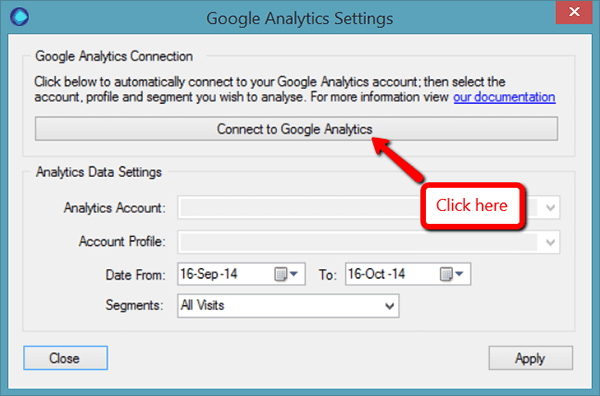 A browser window will open up. One more click needed….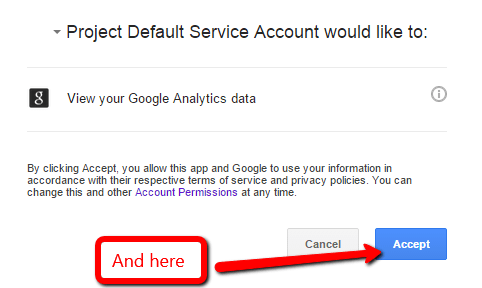 BAM! You're in!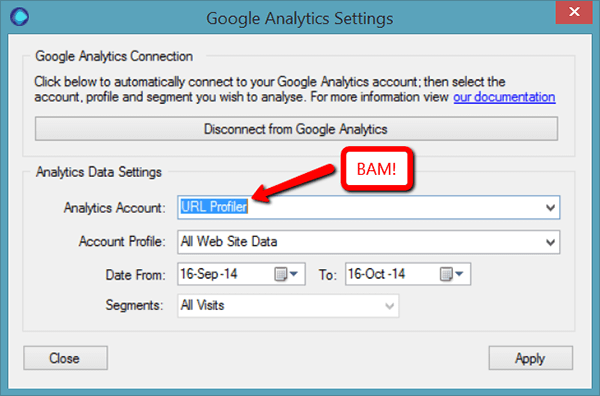 I told you it was 2 clicks. Enjoy!
(Note: If you need to switch to a totally different Google account, it is about 4 clicks. See our documentation for more details).
There's a few minor updates too
Improved TLD and Root Domain extraction matching. 6809 TLDS including subdomains and GTLDs.
Updated Google Analytics data to reflect the new naming conventions.
Modified the OSX Google Analytics connection panel
Added Google Analytics status messages
Updated Ahrefs API output
Bug Fixes
A boatload of niggly bug fixes, all of which will make your eyes bleed. Rest assured they have been squashed.
Downloads
If you've not tried URL Profiler yet, you can start a free 14 day trial here:
The trial is full featured, and you don't need to give us any payment details to get started.
Existing customers or existing trial users can grab the new update from here:
What are you waiting for?
If You Like the Sound of URL Profiler,
Download a Free Trial Today
(You'll be amazed by how much time it saves you, every day!)