Step-by-Step Guide to Resource Link Building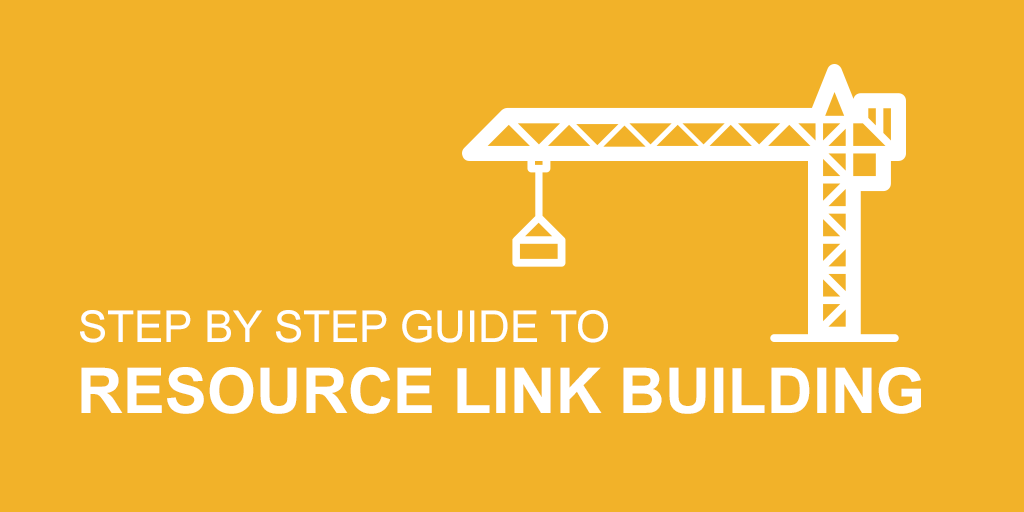 This is the first ever guest post published on the URL Profiler blog, and we are delighted to welcome Benjamin Beck to share his thoughts with us.
You will almost definitely be aware of Benjamin's work, as he's one of those guys that just seems to be everywhere. He's published on all the big industry sites, and blogs on his own site benjaminbeck.com. His latest venture is an exceptional link building course, which includes 15 lessons from link building aficionados like Jon Cooper and Brian Dean – go check out The Link Building Class and sign up to receive email lessons.
Enough from me, over to you, Ben!
Resource link building can be the holy grail for link building
Why you ask?
Because where else on the internet can you find sites that have pages dedicated solely for linking out to relevant resources?
Today I am going to walk you through how to find, qualify, and email websites to gain resource links.
Steps to resource link building
Perform a resource audit
Find resource link opportunities
Prioritize opportunities
Email opportunities
Step #1: Perform a resource audit
Before you can get listed as a resource you need to make sure that you have something that is link worthy.
Resources come in many different forms. Below are a few examples of resources that your website might already have:
Calculators
FAQ Content
Aggregated Lists
Case Studies / Guides
Free Tools
Checklists
Services you provide
If you do not know where to start, put your URL into Ahrefs and look at your top pages. This will help you see which pages already get the most links.
For this lesson, I will be using informationisbeautiful.net as an example (no affiliation).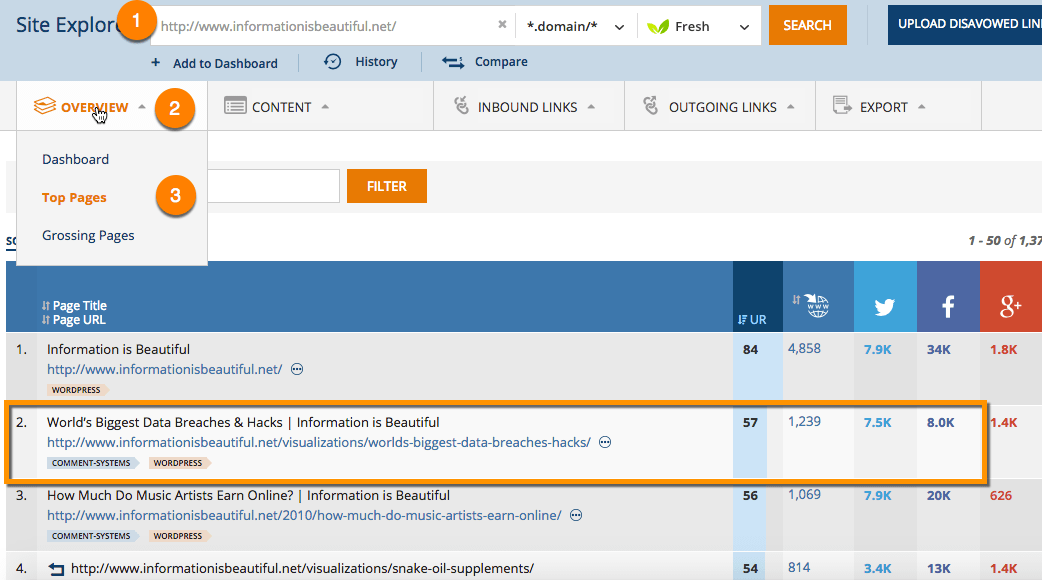 Looking at InformationIsBeautiful.com I see that the page with the most links (other than the homepage) is a page about data breaches.
This will be the example I will use to try and find resource links for.
Step #2: Find Resource Link Opportunities
Google Search
I start with Google to gain an understanding of what phrases people use in the industry I am researching.
Here are some simple queries to get you started.
[keyword] inurl:resource
[keyword] inurl:links
[keyword] intitle:resource
[keyword] intitle:links
[keyword] "top sites"
[keyword] "round up"
When I Google "cyber security inurl:resource" you see that I get a lot of results from relevant sources that have high authority.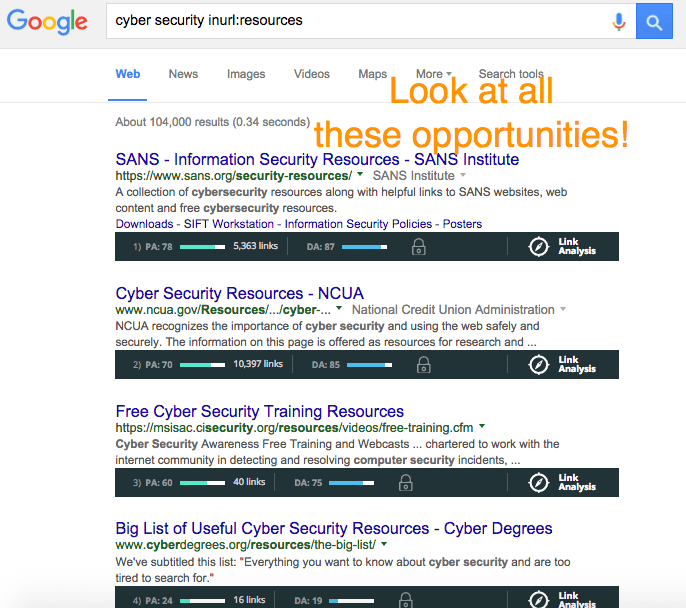 Pro Tip: Use the Moz bar extension to get authority metrics & easily export all of the links from the Google search results. As seen in the screenshot.
Step #3: Prioritize Links Opportunities
Once you have a list of resource opportunities in a spreadsheet it's time to go through and prioritize them.
Resource Backlink Prioritization Checklist:
Live or Dead Site? – If it's dead don't bother.
Less than 100 external links? – A link with too many external links leads to not much authority being passed.
Site Authority Metrics? – Moz domain authority, Majestic citation & trust flow, and social shares.
Contact Information? – This can be very time consuming.
Relevant to topic? – If it is not related to the industry it  needs to be filtered out.
Broken links on page? – Helping them improve their site makes outreach a lot easier.
Step #4: Use URL Profiler To Do Everything
You can go through each of these opportunities that we found manually…
OR!
You can have URL Profiler do it all for you.
With the following settings in URL Profiler you are able to get the information that will save you so much time!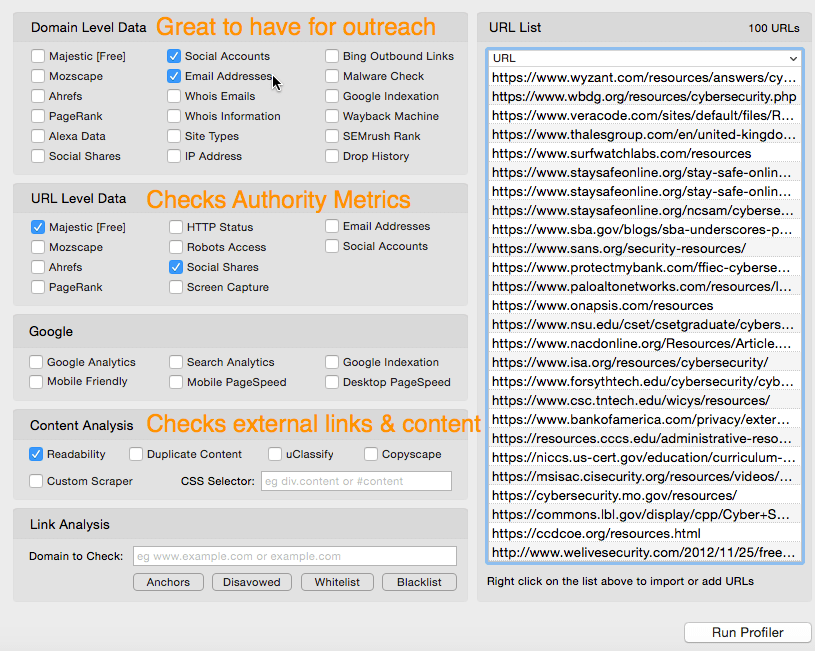 Here is a screenshot of the export from URL Profiler provides.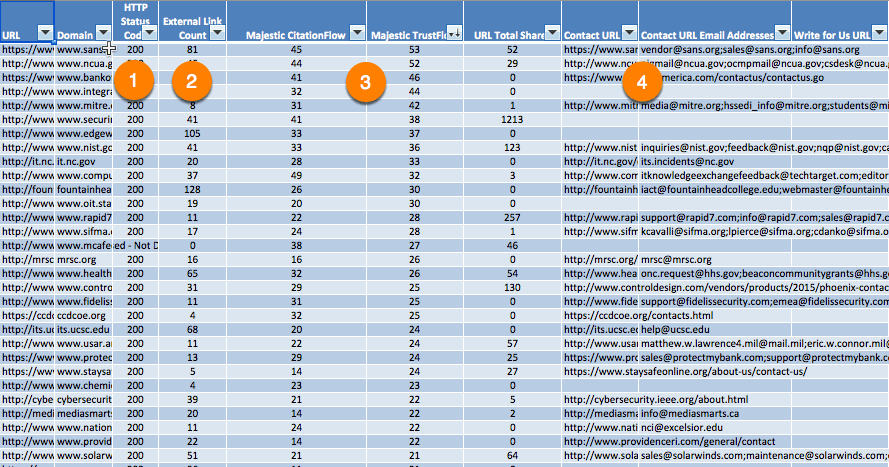 Note: I am hiding a lot of columns in the screenshot. So when you get your files from URL Profiler it won't instantly look exactly like mine.
If we go back to the checklist for prioritizing resource links in step #3 you can see URL Profiler has made the first 4 steps extremely easy!
Live or Dead Site – Filter out all the 404 & 301 status codes.
Less than 100 external links – Filter out if it has over 100 external links.
Site Authority Metrics – Filter by the quality metrics you prefer. URL Profiler comes with Majestic data & Moz data for free!
Contact Information – Filter by those who have contact information already available.
Steps 5 & 6 need more of a human approach:
5. Relevant to topic – You will need to look at the website yourself to make sure it is on topic.
6. Broken links on page – Jon Cooper created a Chrome extension called Link Miner that quickly checks a page for broken links that can be easily exported.
Step #5: Email Opportunities
After using URL Profiler to help with prioritization, it's time to start emailing the opportunities.
To save time you should use templates to improve outreach accuracy and speed. You can use Gmail canned responses, or, we use Buzzstream for outreach.
The 1st Email
In the first email keep it short, direct, and don't ask for a link.
Compliment them on putting the list together, let them know if they have any broken links, and inquire if they are still updating the page with good resources.
Subject: [Domain URL] question
Hi [Name]
Are you still updating [Domain URL]?
I found a broken link and would be glad to point it out to you.
Thanks,
Ben
The 1st Email Follow Up
If you don't hear back from them after the first email just send them a simple follow up email.
Hi [Name],
I don't know whom I should get in touch with about these broken links so they can be fixed.
Can you point me in the right direction?  
Thanks,
Ben
The 2nd Email
Once you get a positive response from the site owner send them the resource information.
Hi [Name],
Here are the links that I found that are broken on this page:
[Broken link](Using Link Miner really helps with this!)
When you are fixing the page, I also thought your readers would appreciate having these resources added as well:
[Other helpful resource – Why it's helpful]
Your Resource – Why it's helpful
[Other helpful resource – Why it's helpful]
Thanks again for being awesome,
Ben
That's it – watch the links come pouring in! Now go get those resource links!
If you liked the process outlined above, come sign up for my Link Building Class to learn more actionable link building strategies.
If You Like the Sound of URL Profiler,
Download a Free Trial Today
(You'll be amazed by how much time it saves you, every day!)