How to Do Topical Link Prospecting

Link prospecting is a vital job for anyone doing link building – you need to identify the right types of sites to target.
Topical link prospecting is all about relevance – finding the most topically relevant sites to try and get links from. In this post I will tell you how to set up URL Profiler to do most of the heavy lifting for you.
If you are more visually inclined, we also have the post in video format:
Traditional Link Prospecting
Ignoring the topicality for a moment, a core function of URL Profiler is standard link prospecting, by pulling back link data such as:
Moz Page Authority and Domain Authority
PageRank
Majestic SEO Citation Flow and Trust Flow
ahrefs Domain Rank
Google Indexation Status
Social Share Count
From any list of links, you can quickly get all this data on more, to sift through the links and find only the best websites to target for links. This is as straightforward as setting your APIs up and clicking a few tick boxes (hopefully this is obvious, but if not please just ask us on [email protected]).
Topical Link Prospecting
With topical link prospecting, we are looking to bring back data on the potential domains which will tell us 'what the site is about.' We can extract this information via 2 different APIs:
uClassify– this will analyse the page content on the site, and seek to classify the site into the 5 most relevant topics (based on the Open Directory Project)
Majestic SEO – using their new Topical Trust Flow, this analyses the content of the links into a website and classifies these by topic
Using these two APIs, we can get an overview of what a site is about, and what the links into the site are about (for most 'natural websites', these two things should be closely aligned).
Setting Up The Tool
If you are only analysing the topics, you will only need to select the Majestic and uClassify settings, however if you want to run a comprehensive profile will will probably want a few more metrics, such as: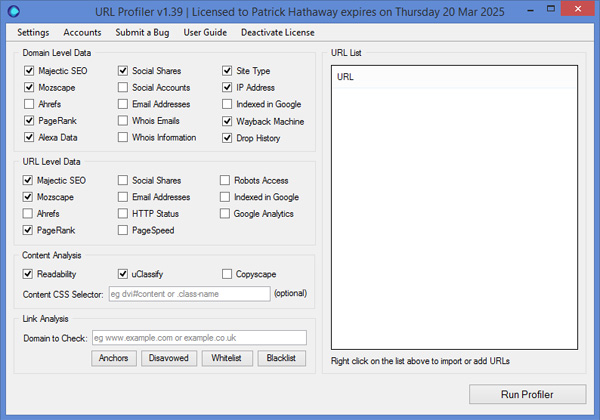 Before you run the Profiler, you will also want to adjust the settings (top left), as below. Make sure that the basic link metrics are selected (you probably don't want to return every metric) and the 'Topical Trust Flow' metrics are ticked.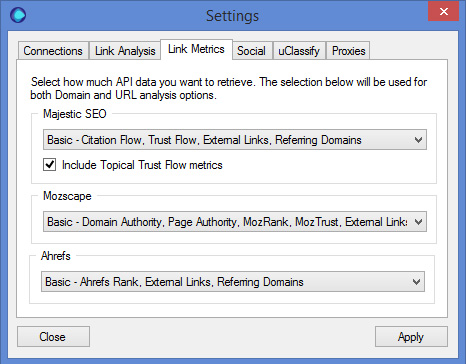 Next, move across to the uClassify tab, and you want to select the 'Topics' and 'Language', which will give us data about how relevant the site is for our needs.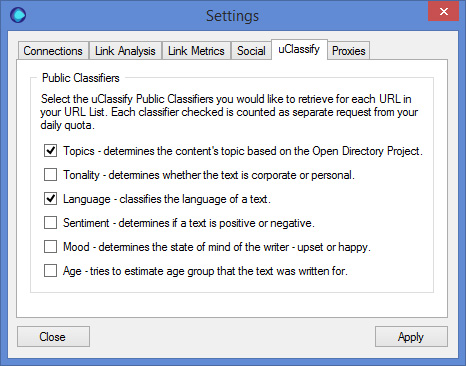 Topical Link Data
Once you have run the profile, it will return a big spreadsheet with all the data on. In our example we have been prospecting a load of sites in the gardening niche. As such, we might be looking to attract links from topically relevant sites, within the areas of home and garden, home improvement, ecology etc…
uClassify Results
If we scroll along the spreadsheet to the uClassify results, we can see how it has classified the site content: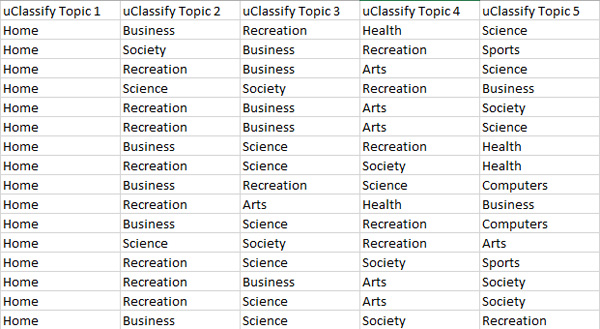 uClassify will select the 5 topics it thinks best fit the content it is analysing. As you can see, many of the sites we are prospecting have been classified as 'Home', which would be about right for the gardening niche as it sits within the Home & Garden subtopic.
Majestic Results
If we then scroll along to the Majestic results, we can see how they classified the links into the site. They classify the links based on the 3 most relevant topics they see from the link profile of the content.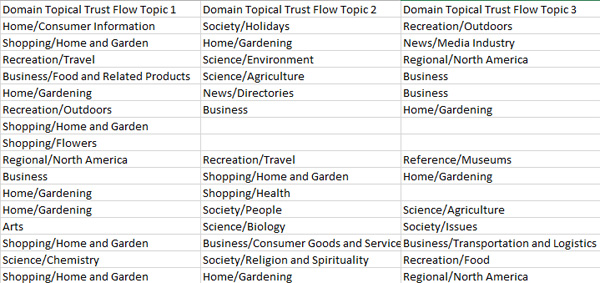 Again, we can see a decent amount of these sites have links from relevant sectors like Shopping/Flowers and Home/Gardening.
Armed with this data, you can now filter out all the irrelevant sites, leaving only the most topically relevant targets to pursue.
How To Use Topical Domain Data
The point of all this is to give you information not just about how authoritative a link might be, but also how relevant it is to your website. As Google is continually refining its spam detection techniques, it seem only a matter of time before relevance will be dialed up – so it makes sense to start preparing now.
Furthermore, if we try to think 'beyond the link' we want to be prospecting sites with an audience crossover, that might realistically send us some traffic or sales. Or, at the very least, a bunch of flowers.
If You Like the Sound of URL Profiler,
Download a Free Trial Today
(You'll be amazed by how much time it saves you, every day!)